Every modern business is dependent on data, and every business practices data governance.
We make decisions about data every time we use it. But when decisions are made in an ad hoc and unplanned way, we lose opportunities to use data better, and, expose ourselves to data risks.
Table of Contents
Why formalise data governance?
Information governance ensures that the right people are involved at every step of the data management process - making decisions, understanding impact, supplying context, prioritising deliveries, and staying informed.
According to a 2021 report from Drexel University's LeBow Center of Business Analytics, entitled Trends in Data Governance and Data Quality, governance programs for data enjoy strong business support.
However, poor awareness of the data culture, a lack of appropriate data governance tools, and a poor understanding of the right organisation approach remain obstacles to success.
When looking at training for data governance, which could help address cultural awareness and adoption obstacles, findings show that only 21% of respondents report a formal training program is in place in their organisation
Address the challenges
Our approach, leveraging the methodologies and approaches of our international partners and our local implementation experience, addresses the challenges identified by LeBow Research, including:
The LDIS+ cultural assessment, developed by Logicle Analytics, builds an understanding of cultural obstacles and increases adoption
In partnership with eLearningCurve we offer two formal training programs - the Certified Data Steward and the Certified Information Management Professional - to bring best practice understanding to local data stewards and information governance professionals
We apply proven technologies to automate collaboration, sharing of information and the approval processes, accelerate the capture of metadata, and scale the governance capabilities in support of enterprise goals
Data governance implementation experience
Case Studies
Information Governance framework and implementation for a number of Enterprises over more than ten years, including:

a number of banks in South Africa and beyond
an international financial services organisation
a leading insurance group,
a major player in the hospitality industry

Definition and implementation of data quality rules and standards across a range of industries including financial services, manufacturing, utilities, and government.
Implementation of data stewardship tools and processes to support the above.
What is Data Governance?
Information governance is the system of decision rights and accountabilities for information-related processes. Governance is the foundation of data management - changing behaviour to ensure the delivery of trusted and valuable information.
We recommend a lean and active approach to governance.
This combination means that we apply governance efficiently to actively support day-to-day business and analytics operations.
Lean Data Governance
Our lean approach, based on a Precisely methodology, actively engages the right stakeholders, across business siloes and IT, to share knowledge, minimise unwanted impacts and build trusted data. This approach is designed to help you adopt what you need and adapt as you see fit.
We encourage you to start small, address immediate concerns, and then extend and adapt based on lessons learnt. We consider your data culture and maturity before providing a roadmap to achieve your desired data management state.
Always remember that information governance is about embedding data-related decision-making into your normal business-as-usual processes.
Active Data Governance
Companies that practice active data governance - embedding data stewardship and curatorship activities into business-as-usual data processes - report significant advantages in their ability to use data effectively without compromising data privacy, improve data quality, build trust in data-driven decision-making, and deliver new data products.
Governance in the Age of Big Data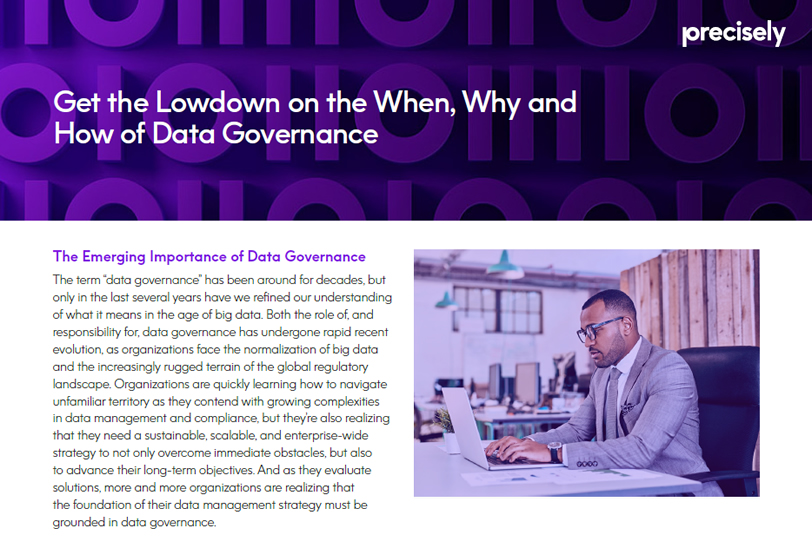 To be most effective in the evolving data landscape, not only does information governance need to be centralized, but it must also be business-centric.
Years ago, information governance could exist largely as a concern of IT and compliance, but business today needs to leverage data and analytics to gain a competitive advantage and improve the bottom line.
Get the Lowdown on the When, Why and How of Information Governance with this whitepaper from data-integrity leader, Precisely.
Our Implementation Approach, Framework and Training Options
Save Time and Increase Data Accuracy
"The project began in October 2019 and was finished by the end of December of the same year.
It was a quick, easy implementation that was up and running swiftly and with minimal business impact."
Manrich Kotze
Technology enablement
Data curatorship and stewardship should be as easy as possible.
Once you have agreed on basic priorities and your approach, a business-friendly data stewardship platform can help to accelerate the adoption of new governance processes, reduce the workload and management overheads, and provide an enterprise knowledge base that will help you to find, understand and trust your data.
Most importantly, automation ensures that the right people are involved in all decision-making and changes to data, ensuring that changes are prioritised by the business and that negative impacts are avoided, laying the foundation to monetise data.
"Precisely has a unique capability to relate individual data elements to business process models and estimate the business value of data elements in monetary terms" - Stewart Bond, VP, IDC
FAQ