Certified Data Steward
The certification for data stewards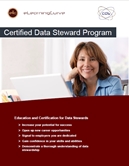 Every company that is serious about the governance, quality and security of data requires data stewards. Data stewards play the critical role of connecting business information needs and processes with IT data management capabilities.Yet, in many organisations, the role of the data steward may be poorly understood.
The mission of the Certified Data Steward (CDS) Program is to formalize the role of data stewardship and to drive recognition of Data Steward as a professional designation. To fulfill this purpose, CDS is committed to these goals:
Define, manage, and publish a comprehensive Data Stewardship Body of Knowledge (DSBOK)
Offer comprehensive education in all areas of DSBOK
Evaluate each individual's capabilities through a comprehensive examination and experience review
Recognise individuals who have met the requirements with the professional designation Certified Data Steward
Why Achieve the Certified Data Steward Designation?
Login to download a price list