Designing and Implementing Analytics Data Architecture is a new business intelligence course designed to address modern data management challenges and provide insights into modern practices and data architecture design patterns and extends both our BIe and data architecture curriculums.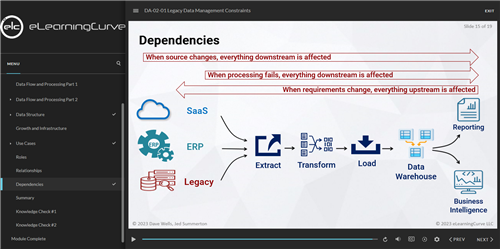 In today's rapidly evolving business world, utilizing data and analytics has become imperative for organizations to compete effectively. However, with the ever-advancing technologies and capabilities, it is challenging for businesses to keep up with the changes and manage data for maximum impact. Despite this, most organizations still cling to the outdated data architecture of the BI era, which is insufficient for supporting modern analytics use cases. Merely patching new components onto the surface of legacy architecture is not sustainable and fails to provide adequate support for modern data requirements.
Although modern data architecture may seem complex and difficult to implement, it is crucial to step up and embrace it. The first step is to define the necessary business and data capabilities, followed by integrating new capabilities into the existing data management practices.
The step-by-step approach outlined in the course ensures that businesses can establish a sustainable and adaptable data management architecture that caters to their present and future needs. By taking this course, businesses can gain a competitive edge in the market and achieve maximum value from their data resources.
You will learn:
The reasons that legacy data architectures need to be modernized
The multitude of requirements for effective analytics data management
The similarities and differences of Data Lake, Data Fabric, and Data Mesh architectures
Techniques to identify analytics business capabilities and requirements
Techniques to identify analytics data capabilities and requirements
How to apply architectural design patterns and frameworks
How to adapt reference architectures
The path from requirements to a well-designed architecture
Six techniques for architecture implementation
This course is geared towards:
Practicing and aspiring data architects
CDOs, CIOs, and other executives responsible to provide data management leadership
Enterprise, analytics, and technology architects who work with data architects
Data engineers and systems engineers
Designers and developers of data management and analytics systems
Anyone who needs to collaborate with data architects
The course is developed and delivered by elearningCurve Education Director, Dave Wells and Daniels College of Business lecturer Jed Summerton, and will contribute towards a Certified Information Management Professional (CIMP) accreditation in Data Architecture or the CIMP in Business Analytics.