CIMP in Data Warehousing
Data warehousing stores historical data for rapid reporting and analysis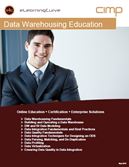 Data Warehousing (DW) is a core component of modern business data management, providing essential capabilities to integrate data, capture and retain history, and give business users a reliable, understandable, and trusted source of data.
Data warehousing has evolved from its origin in the early 1990's as a high-latency resource of integrated reporting data. Today the data warehouse is the cornerstone of an enterprise data hub with data that ranges from high-latency to real time, with use cases that range from reporting to advanced analytics, and with data across the spectrum from enterprise transaction data to a variety of big data types.
The modern data warehouse is a complex data management system that depends on skilled and educated architects, designers, and developers.
Our Data Warehousing curriculum includes 10 online courses listed below.
Login to download a price list