CIMP in Data Quality
Data quality ensures that data is trusted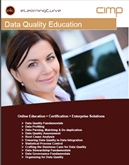 Data quality is a key business challenge of the 21st century.
Quality has been an issue since the dawn of the IT profession and becomes increasingly challenging as the volumes of data increase and the uses for data expand.
Regardless of your roles and responsibilities in IT - manager, developer, or technologist - you will at some time be challenged by data quality issues. And quality is an equal opportunity issue, imposing itself in every aspect from transaction systems to Web content and business intelligence.
Our Data Quality curriculum includes 11 online courses
Login to download a price list