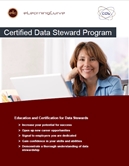 Every company that is serious about the governance, quality and security of data requires data stewards. Data stewards play the critical role of connecting business information needs and processes with IT data management capabilities.Yet, in many organisations, the role of the data steward may be poorly understood.
The mission of the Certified Data Steward (CDS) Program is to formalize the role of data stewardship and to drive recognition of Data Steward as a professional designation. To fulfill this purpose, CDS is committed to these goals:
Define, manage, and publish a comprehensive Data Stewardship Body of Knowledge (DSBOK)

Offer comprehensive education in all areas of DSBOK

Evaluate each individual's capabilities through a comprehensive examination and experience review

Recognise individuals who have met the requirements with the professional designation Certified Data Steward
CDS Packages | CDS Rulebook | DSBOK | CDS Governing Body
Why Achieve the Certified Data Steward Designation?
The CDS designation demonstrates that you have both a depth of understanding and the skills to apply data stewardship concepts, techniques, and practices - including data quality, data governance, metadata management, and master data management. For those data stewardship professionals that can demonstrate a combination of great Expertise, Experience, and Excellence in data stewardship we offer the second level of CDS certification - CDS Ex. Detailed requirements for the CDS and CDS Ex can be found by reading the CDS Rulebook
Earning the CDS designation will increase the potential for your success in a data stewardship role, open up new career opportunities, and signal to employers that you are dedicated to your profession. It will give you confidence and belief in your ability to tackle challenging projects and accept new responsibilities, and will tell others that you have expert skills and abilities.
Take advantage of one of our CDS Packages for all the skills you will need to be a professional data steward.. Each package includes all courses and exams necessary to earn CDS or CDS Ex in one of the tracks, all at a savings of 20% or more. Alternatively, you can simply enroll in courses and exams one at a time.
Data Stewards may focus on the Data Stewardship Education, or may augment their package with our Data Governance courses
Are you a DAMA South Africa member?
Don't forget to ask for your DAMA discount.
Corporate packages and discounts may apply for group bookings - please contact us for more information
Download the CDS Brochure or vist eLearningCurve for more information and for sneak peeks at the courses