CIMP in Information Management Fundamentals
Information Management is a broad and diverse field that encompasses many different disciplines and practices.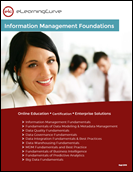 Effective information management comprises a continuum of people, process, and technical dimensions that range from data collection to decision-making. Considering information in all of its forms from raw data to business analytics, information management practices address architecture, governance, quality, modeling, integration, transformation, visualization, and much more.
This curriculum provides a broad overview of multiple information management disciplines, and can be supplemented by specialising in one of the niche tracks
Our information Management curriculum includes 11 online courses
Login to download a price list