CIMP in Master Data Management
Master Data Management (MDM) is the disipline enabling an enterprise to link all of its critical (master) data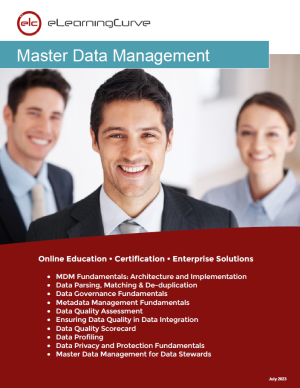 Master Data Management (MDM) is the disipline enabling an enterprise to link all of its critical (master) data in in one file that provides a common point of reference and reduces redundancy, inconsistency and duplication.
Customer relationship management (CRM) without customer data integration is difficult. Effective supply chain management is equally difficult without integrated product, supplier, and partner data.
These are but two examples among the many reasons that MDM - a relatively young discipline - has moved so rapidly from emerging to mainstream.
Master data management requires a strong foundation in data governance, data quality and data integration, wiuth the focus on the delivery of a single view of crtical data.
Our Master Data Management curriculum includes 10 online courses
Login to download a price list