Data Integrity is the quality, reliability, trustworthiness, and completeness of a data set providing accuracy, consistency and business context to your data
Investing in data integrity adds value across the business
Organisations that build trust in data see positive returns across a range of business metrics, while those that invest in DataOps see a substantial reduction in errors and exceptions while delivering data projects more quickly.
Doing nothing is not an option
Conversely, these metrics are negatively impacted by lower levels of integrity.
Read this IDC Spotlight Report to learn more about how and why organisations are investing in information integrity
Table of Contents
Data integrity is built on four key pillars
Why is information integrity important?
Overwhelmingly, we rely on information to do our jobs, and to inform our decisions. Our business is dependent on our ability to maintain and deliver reliable, trusted data, when needed, to the knowledge workers and decision-makers that depend on it. Data with integrity means that we deliver this trusted data, consistently, to every knowledge worker and decision-maker that needs it.
Driving digital transformation
A key goal of most digitalisation programs is the automation of inefficient, manual processes. IDC research shows that 47% of newly captured data records have at least one critical error. Reducing errors at the point of capture, and ensuring integrity through the data lifecycle is key to enabling efficient automated processes.
Data of high integrity is therefore a stepping stone to digital transformation.
It doesn't stop there. Digital adoption drives an increase in both the volumes and complexities of data coming into the enterprise. Companies need to manage this complexity in order to listen to the new, digital voice of the customer. As businesses shift to new digital channels, it becomes easier to lose critical customer interactions in the digital noise.
Data quality and integrity are at the foundation of digital transformation making it easier to understand and support customers.
Next-generation Customer 360
According to a June 2022 Spotlight report by the IDC, investments in technology to improve data have positive impacts on a wide range of business metrics, with customer satisfaction topping the list of improvements at a significant 42% improvement.
Next-generation customer 360 approaches move beyond entity resolution to identify and track customer interactions and relationships – critical to understanding the customer buying journey and driving smarter omnichannel marketing approaches.
Building high-quality, consistent and reliable datasets starts with consolidating what you have internally.
A complete view of the enterprise, and its relationships with its markets, comes when we enrich internal data with additional information– such as location and demographics data – that allow us to build a picture of our customers, our channels, and our products positioned in the world in which they live and interact.
Data enrichment combines internal data with curated third-party datasets to build an unparalleled understanding of the customer, their relationships, and their preferences.
Empowering data science, machine learning and advanced analytics
Advanced analytics capabilities – from data science to machine learning and AI – are the new frontier in data. Businesses are looking for insights from more data and more data sources than ever before. Consumer transaction data, social media, and data in motion (from IoT sensors, mobile devices, vehicles etc) provide many opportunities for insights, assuming that the data is trustworthy.
Yet, BARC research shows a significant disconnect between business and D&A's confidence in data., with 52% of business stakeholders agreeing that existing data is not suitable for analysis. This lack of trust can be the death knell to analytics.
The old adage, "garbage in, garbage out", is more relevant than ever before. Flawed decisions, based on poor quality or biased data, have immediate consequences and affect both individual customers and staff directly. Reputation is at stake.
Information integrity enables unbiased, ethical use of machine learning and artificial intelligence for optimised business.
Baseline for Innovation
According to IDC, digital transformation investments will top $6.8 trillion globally in 2023. Data infrastructure spending is expected to reach $200 billion in 2022, and 68% of Fortune 1000 businesses now have hired Chief Digital Officers, elevating information integrity to the level of the C-suite. If digital transformation initiatives are to deliver on their promises, they need accurate, consistent, contextualized, and rich data.
Ultimately, the point of data governance and integrity is to deliver business outcomes with measurable value for the organization. That includes delivering the right data to the right users, making the right decisions at the right time, and with the right context.
To learn more about how information integrity is driving innovation, read the Precisely research report The Future of Data Integrity: Perspectives from Data Experts which shows a widespread acknowledgement that data strategy success depends on ensuring data is accurate, consistent and provides the right context for effective decision-making.
How do we help you deliver trusted data?
For more than 15 years, Master Data Management has helped large organisations implement data management best practices to achieve high-integrity data.
These include:
Understanding the importance of data quality and integrity capabilities within the data strategy
Building data management skills and data literacy through our courses and certifications
Implementing appropriate decision-making structures to govern data to ensure integrity.
Enabling collaboration between data stakeholders across the enterprise
Providing the capabilities to build a common understanding of data and data management practices across the organisation
Delivering automated capabilities to clean and enhance existing data, and to stop bad data from entering systems in the future
Identifying and managing duplicate data
Identifying and managing access to sensitive data
Precisely Data Integrity Suite
FAQ
What is Data Integrity?
Data with integrity means data with maximum accuracy, consistency, and context for confident decision-making.
Of course, the integrity of data is built upon a foundation of data quality – data that is fit for purpose, accurate, and consistent.
But, in today's interconnected world quality data is not enough. We need to add business context, through data transparency, to deliver data that decision-makers can easily understand and trust.
What is the difference between data integrity and data quality?
Two terms can be used to describe the condition of data: data integrity and data quality. These two terms are often used interchangeably, but there are important distinctions. Any company working to maximize the accuracy, consistency, and context of their data to make better decisions for their business needs to understand the difference.
Data quality refers to the reliability of data. Data quality is an essential subset of integrity.
While data quality refers to whether data is reliable and accurate, data must go beyond data quality to achieve integrity. Integrity requires that data be complete, accurate, consistent, and in context. Integrity is what makes the data actually useful to its owner.
Not all at once – this will be overwhelming.
Start by committing to doing better going forward.
Identify critical data elements based on how they are used to support key business processes, reports or regulations, and agree and define minimum data standards for accuracy, completeness, consistency and so on.
You can then prioritise and begin to work on improvements to existing systems and processes, slowly reducing accumulated debt where it is having the biggest impact.
Data Volume, Variety, and Velocity Raise the Bar

Enterprises Strive to Expand Data Quality and Integrity Competencies

Build an Ongoing Discipline for Data Quality and Integrity

Delivering Trusted Data for Compliance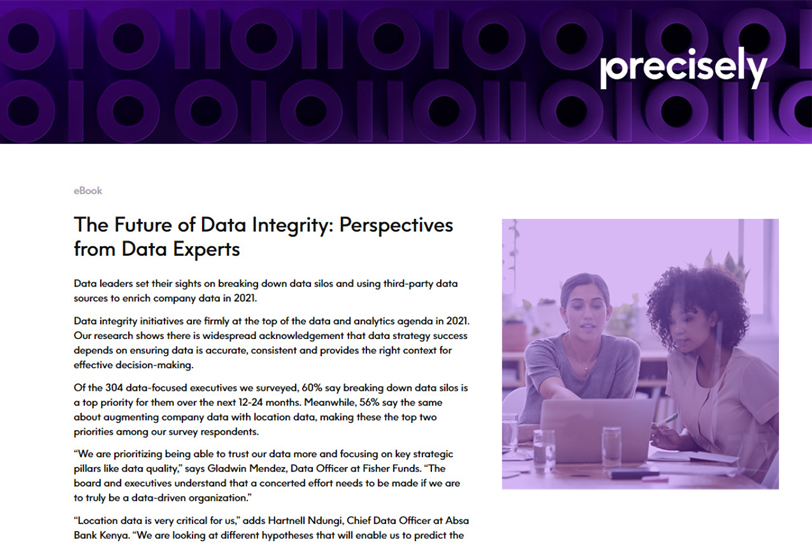 How do Good Data Quality Practices Impact Integrity?
A sound data strategy includes data quality solutions capable of standardizing and validating data, identifying gaps or discrepancies, and triggering workflows and processes to correct those errors at scale. That includes automated data discovery to catalogue and profile data sources from across the entire enterprise. It also requires a rules-based approach to finding and fixing data quality issues promptly, and automation tools that support proactive detection of potential issues so that they can be addressed quickly. Read our article on how to achieve data integrity.