If you are looking for training and certification in Master Data Management (MDM) then you have come to the right place.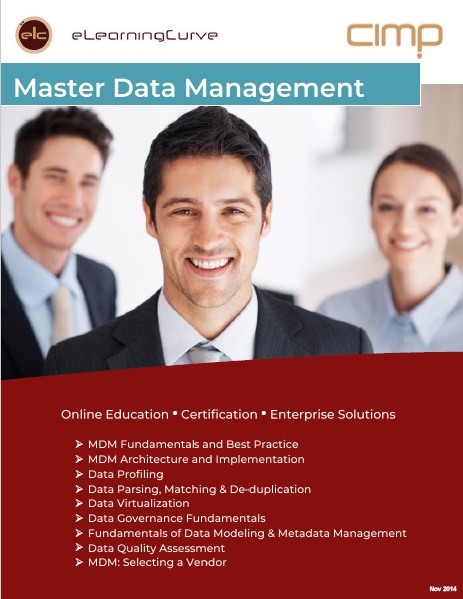 Master Data Management (MDM) is a hot topic. High-quality, low-redundancy reference data is essential in business today.
Customer relationship management (CRM) without customer data integration is difficult.

Effective supply chain management is equally difficult without integrated product, supplier, and partner data.

Compliance with legislation such as the Consumer Protection Act, Popi and FATCA is difficult, if not impossible, to achieve without a centralised view of client data.
These are but a few examples among the many reasons that MDM - a relatively young discipline - has moved so rapidly from emerging to mainstream.
MDM is not a technology - it is an information management discipline built on a foundation of data governance and data quality that enables an organisation to be more efficient, comply with legislation, and achieve its goals. MDM is no longer a "nice to have." It has taken a place among the essential competencies for business success.
Our Master Data Management curriculum includes 10 courses, each delivered by a global expert with substantial real world experience.
Download the Master Data Management Course Catalogue, or visit eLearningCurve for more details and sneak previews of each of the courses.
Training is delivered online - all you need is sound and an internet connection.
The courses are designed to equip you with the core skills you need to do your job, as well as advanced tips and tricks normally only gained with years of experience, and do not depend on a particular product or environment. Whether you are just entering the MDM arena, or have years of experience, you will find a course to suit your education needs.
Each course is accompanied by an optional Certified Information Management Professional (CIMP) exam
Individuals that pass a number of exams can gain the internationally recognised CIMP designation in Master Data Management (MDM)