If you are looking for training and certification in data stewardship then you have come to the right place.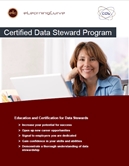 Data stewards are typically accountable for the data strategy, definition, requirements, and quality of the data under their stewardship. You will play a leadership role within your company's data governance initiative - whether this is driven by regulatory needs, or simply by the realisation that your organisation cannot continue to waste IT spend on systems and projects that are hamstrung by poor quality data.
Our online curriculum features 5 courses, each delivered by a global expert with substantial real world experience
Download the Data Stewardship Course Catalogue, or visit eLearningCurve for more details and sneak previews of each of the courses.
Training is delivered online - all you need is sound and an internet connection.

The courses are designed to equip you with the the core skills you need to do your job, as well as advanced tips and tricks normally only gained with years of experience, and do not depend on a particular product or environment. Whether you are just entering the data governance arena, or have years of experience, you will find a course to suit your education needs.
Each course is accompanied by an optional Certified Data Steward (CDS) exam.
Individuals that pass a number of exams can gain the internationally recognised CDS or CDS Ex designation

Some of the packages combine data stewardship courses with advanced courses in data quality, data governance, or master data management (MDM) allowing you to earn both CDS and CIMP designations.