If

you are looking for Data Quality training and certification then you have come to the right place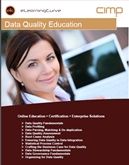 Data Quality is a fundamental building block for any data management professional - poor quality data is the root cause of many system failures and, as data features more and more on the business agenda, this reality is becoming more visible. Regardless of your roles and responsibilities - manager, developer, or technologist - you will at some time be challenged by data quality issues. And quality is an equal opportunity issue, imposing itself in every aspect from transaction systems to Web content and business intelligence.
Our online curriculum features 12 courses, each delivered by a global expert with substantial real world experience
Download the Data Quality Course Catalogue, or visit eLearningCurve for more details and sneak previews of each of the courses.
Training is delivered online - all you need is sound and an internet connection.

The courses are designed to equip you with the the core skills you need to do your job, as well as advanced tips and tricks normally only gained with years of experience, and do not depend on a particular product or environment. Whether you are just entering the data quality arena, or have years of experience, you will find a course to suit your education needs.
Each course is accompanied by an optional Certified Information Management Professional (CIMP) exam
Individuals that pass a number of exams can gain the internationally recognised CIMP designation in Data Quality.