If

you are looking for training and certification in data governance then you have come to the right place.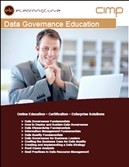 While Data Governance is a relatively recent discipline it is a fundamental building block for successful data management. The shift from data administration to data governance has implications for all aspects of data management including cost, value, quality, security, privacy, regulatory compliance, and the maturity of data management practices.Regardless of your roles and responsibilities - business manager or technologist - data is playing an increasingly strategic role in your life. Data governance gives you the tools to ensure that your business maximises the return on its information investment.
If you are a data steward you may prefer our Data Stewardship courses, or build a curriculum combining elements from both the data governance and data stewardship curricula.
Our online curriculum features 11 courses, each delivered by a global expert with substantial real world experience
Download the Data Governance Course Catalogue, or visit eLearningCurve for more details and sneak previews of each of the courses.
Training is delivered online - all you need is sound and an internet connection.

The courses are designed to equip you with the the core skills you need to do your job, as well as advanced tips and tricks normally only gained with years of experience, and do not depend on a particular product or environment. Whether you are just entering the data governance arena, or have years of experience, you will find a course to suit your education needs.
Each course is accompanied by an optional Certified Information Management Professional (CIMP) exam.
Individuals that pass a number of exams can gain the internationally recognised CIMP or CIMP Ex designation in Data Governance.